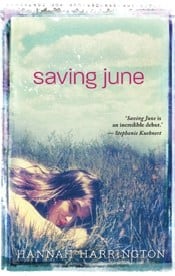 This is the cover of
Saving June
, by Hannah Harrington.
I'm a real nut for vintage-type things. Not really clothing, but more like photo-effects. Not only does it imply the past, but it can also show dreaming. Just looking at this front cover makes me feel a bit absentminded.
Nature is a good way of making us want to feel free. That girl lying in the wild grass looks relaxed, and free...
This final point is rather basic, but quotes can be useful for front covers. Especially ones with praise for the book. Sure, they could possibly be made up, but how can you resist a book that's been given dozens of medals and praises from God and J.K Rowling-like authors? I certainly can't.